"

This week, Weeekly! Hello, we are Weeekly!

"
—Weeekly
Weeekly (위클리) is a seven-member girl group under Play M Entertainment. They debuted on June 30, 2020 with their first mini album We Are.[1][2]
History
2018–2020: Pre-debut
Since the very beginning of the group, its lineup of trainees saw many changes. On September 1, 2018, FAVE Entertainment announced that trainees Lee Soomin, Park Soyeon, and Kim Bowon had left the agency and the group after terminating their contracts.[3]
On October 18, FAVE Entertainment announced its plans to debut a new girl group, tentatively named FAVEGIRLS, sometime in early 2019. A pre-debut showcase, titled WE?, that would feature seven "candidates" of the group, was set to be held on November 11.[4]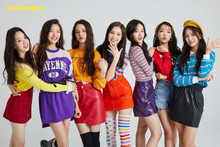 Starting on October 21, the seven trainees were revealed every day via social media. The first trainee to be revealed was Lee Soojin, followed by Monday, Park Haelin, Shin Jiyoon, Park Soeun, Kim Gaeun, and finally Lee Jaehee on October 27.[5]
On February 13, 2019, Kakao M announced that FAVE Entertainment and Plan A Entertainment would be merging. The company's new name, Play M Entertainment, was announced on March 29.[6][7] Thus, the group's tentative name was changed to PlayM GIRLS and debut preparations were delayed.
In July, trainee Park Haelin left PlayM and the project to focus on her studies.[8] In August, Kim Gaeun also left both the agency and the group.[9] By October, trainees Han Jihyo and Jo Hyewon had officially joined the pre-debut lineup.[10]
On April 28, 2020, the group uploaded a video, titled 'Who R U?', to their official YouTube channel. Through the video, the stage names for Jihan (formerly Han Jihyo) and Zoa (formerly Cho Hyewon) were revealed.[11]
2020: Debut with We Are, fandom name, first comeback with We Can
On May 8, 2020, Play M confirmed PlayM GIRLS would be making their debut sometime in June.[1] On May 11, the group's debuting name Weeekly and its members were revealed.[12] On June 12, a teaser timeline revealed the release of the group's first mini album, We Are, was set for June 30.[2][13] On this day, Weeekly officially debuted with the mini album and its title track "Tag Me (@Me)".
On August 21, an official poll on the group's Daum Cafe revealed the group's official fandom name to be "Daileee", which means "without Daileee (Daily), Weeekly cannot exist."[14] The official announcement was made three days later on August 23.[15]
On September 8, a source from Play M Entertainment revealed the group was preparing for their first ever comeback, planning for release in October.[16]
On September 21, it was announced that the group's second mini album, We Can, would be released on October 13.[17] On this day, the mini album, along with its title track "Zig Zag", were released.
On September 25, the group released their first OST single, "Boom Chiki", for the animated survival show My Dream is Ryan.
2021: We Play
On February 18, 2021, Weeekly released their second OST single, "Wake Up", for the KBS drama Hello, Me!.
On February 22, local news outlet Sport TV News reported that Weeekly was preparing for a comeback in March with a new album.[18] Later that day, the reports were confirmed by Play M Entertainment.[19]
A image teaser posted on the group's social media accounts announced their third mini album, We Play, would be released on March 17.[20] On this day, the mini album, along with its title track "After School", were released.
Members
Name
Position(s)
Color[21]
Day[22]
Planet[21]
Years active
Lee Soojin (이수진)
Leader, Main Dancer, Vocalist, Visual, Center

    

Light Pink
Sunday
Sun
2020–present
Shin Jiyoon (신지윤)
Lead Vocalist, Lead Dancer, Rapper

    

Yellow
Wednesday
Mercury
2020–present
Monday (먼데이)
Main Vocalist, Main Dancer, Rapper

    

Blue
Monday
Moon
2020–present
Park Soeun (박소은)
Main Dancer, Lead Vocalist, Center

    

Light Blue
Thursday
Jupiter
2020–present
Lee Jaehee (재희)
Lead Rapper, Vocalist

    

Purple
Saturday
Saturn
2020–present
Jihan (지한)
Lead Vocalist, Lead Dancer, Visual

    

Red
Tuesday
Mars
2020–present
Zoa (조아)
Main Rapper, Vocalist, Visual, Maknae

    

White
Friday
Venus
2020–present
Pre-debut
Park Haelin (박해린)
Leader, Lead Vocalist

    

Red
N/A
N/A
2018–2019
Kim Gaeun (김가은)
Main Rapper, Vocalist

    

Purple
N/A
N/A
2018–2019
Discography
Mini albums
Promotional singles
OSTs
Trivia
Lee Soojin, Shin Jiyoon, Park Soeun, and pre-debut member Park Haelin were contestants on the survival show MIXNINE.
They are the first girl group to debut under PlayM Entertainment in ten years–the last group being Apink.
Lee Soojin, Shin Jiyoon, and Park Soeun are the only remaining members from the group's original pre-debut lineup.
Jihan is the only trainee from Plan A Entertainment to make it to the final lineup.
The group's average height is 168 cm.[24]
All of the members were born in the 21st century.
The group's debut showcase was ultimately cancelled due to a fire that broke out in a nearby building.[25]
Endorsements
Gallery
Main article: Weeekly/Gallery
References
Official links