"

Find your TREASURE! Hello, we're Treasure!
(Find your TREASURE! 안녕하세요, 트레저입니다!)

"
—Treasure
TREASURE (트레저) is a 12-member boy group under YG Entertainment. Formed through the survival show YG Treasure Box, they debuted on August 7, 2020 with their first single album "The First Step : Chapter One".[1]
They were originally scheduled to debut sometime between May and July 2019 but it was postponed.[2]
History
2018–2019: YG Treasure Box
On October 29, 2018, YG Entertainment announced the launch of a new survival show for the debut of the agency's newest boy group. A total of 29 trainees would compete, with most between the ages of 14 to 19.[3] The show, YG Treasure Box, began airing on November 18 and ended on January 18, 2019.
2019: TREASURE, 2nd boy group, TREASURE 13
The first four members were announced on the January 18th finale episode: Haruto, Bang Ye Dam, So Jung Hwan, and Kim Jun Kyu.[4] The remaining three members were revealed on Naver V Live broadcasts on January 21, 23, and 25. Park Jeong Woo was announced as the fifth member, followed by Yoon Jae Hyuk (sixth), and Choi Hyun Suk (seventh).[5][6][7] On January 28, YG announced the group will be called TREASURE.[8]
The following day, Yang Hyun Suk announced that he would form a second group from the show, comprising of six members, to debut after TREASURE.[9] The six members were revealed from January 30 to February 4: Ha Yoon Bin, Mashiho, Kim Do Young, Yoshinori, Park Ji Hoon and Asahi, respectively.[10]
On February 7, reports surfaced that the two groups would be promoting together and separately. It was confirmed later that day on a blog post by Yang Hyun Suk on YG Life's official website.[11] He revealed that the 13 members will first debut as TREASURE 13 before promoting separately into the two groups: TREASURE and MAGNUM. He also explained fanclub's name for all three teams will be called "Treasure Maker". They were expected to debut sometime between May and July.[12][13][14]
On July 24, it was reported that their debut has been put on hold after YGE founder and producer Yang Hyun Suk stepped down from the company following a series of scandals surrounding the company.[15]
2020 (1): New debut plans, Yedam solo, debut with "The First Step : Chapter One", & "The First Step : Chapter Two"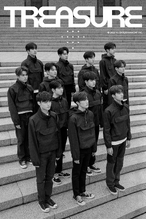 On January 6, YGE posted a notice on their official website stating the group's future plans. This included re-organizing as a 12-member ensemble after Ha Yoon Bin cancelled his contract on December 31, 2019. It was also revealed that the two units, TREASURE and MAGNUM, would be integrated into TREASURE 13 to form a single group to be name simply as TREASURE. The group will hold various unit and solo activities prior to their debut and that YGE will encourage and support the members to actively participate into the composing and writing of music.[16]
On January 8, TREASURE released the first set of individual profile photos titled "TREASURE EDITORIAL vol.1" for members Choi Hyun Suk, Jihoon, Yoshi, and Junkyu.[17] This was followed by Mashiho, Yoon Jae Hyuk, Asahi, and Bang Ye Dam on the 9th, and Doyoung, Haruto, Park Jeong Woo, and So Jung Hwan on the 10th. Additional profile photos were released from the 20th to 23rd.[18]
On January 30, the group released a performance film for the track "Going Crazy".[19] On May 11, the agency shared a promotional video, revealing that the group is set to make their debut in July.[1]
On May 19, a poster of 12 members wearing outfits with TREASURE logos while revealing the team's identity was revealed through YG Entertainment's official blog.[20]
On May 21, YGE officially announced that Bang Ye Dam's solo single will be released in June through a fan announcement. YG explained, "We've been preparing Yedam's solo music before TREASURE was formed" and added, "We've decided that it would be a good decision to release a song that was completed in June, prior to TREASURE's debut, as a surprise gift for the fans". In addition to the news on Yedam's upcoming solo single, which was unexpected by the fans, TREASURE's plans for the second half of this year were also revealed. YG stated, "TREASURE is planning to release new songs 3~4 times until the end of the year, after making debut in July". They explained, "It's a similar promotion method of how BIGBANG released single albums every month when they first made debut back in 2006". No details on the song or an exact release date have been revealed, but Bang Ye Dam's upcoming solo single is expected to raise the global music fans' expectations on TREASURE's debut in July.[21]
On July 20, YGE released a teaser video and poster, announcing the group's debut date to be on August 7.[22] Intro posters for each of the members were released on July 24 and 25. An introduction film was released on July 27.[23] On July 29, a group teaser poster was released, announcing their first single album titled "The First Step : Chapter One".[24]
Following its release, the group's debut single set a new record for largest number of albums sold by a rookie group in 2020 with 166,614 copies in one week.[25]
On September 1, YGE released a coming soon poster for the group's first comeback release.[26] On the midnight of September 7, it was announced that TREASURE would be releasing their second single album, "The First Step : Chapter Two", on September 18.[27]
2020 (2): "The First Step : Chapter Three", & First Full Album Plans
On October 12, through its website "YG LIFE", YG Entertainment reported that the group was preparing for their next single album "The First Step : Chapter Three" and also reported that there was a plan for the release of their first full album in the beginning of December.[28] On October 26, YG Entertainment confirmed that the group would release their third single album on November 6.[29]
2021: The First Step : Treasure Effect, Japanese debut, first web drama, first fan meeting and second web drama
On December 28, 2020, YG Entertainment announced that the group would release their first full album entitled The First Step : Treasure Effect on January 11, 2021.[30] On December 31, 2020 it was announced that the title track for the album would be called "My Treasure". [31]
On January 21, YG Entertainment informed that Treasure's Japanese debut album The First Step : Treasure Effect would be released on March 31, through the group's official website. The group's Japanese debut album is the Japanese version of the first Korean album, The First Step : Treasure Effect and includes Japanese versions of all 12 tracks in addition to "Beautiful", which is TREASURE's first original Japanese song and the ending theme of Black Clover.[32] On March 23, 2021, the group's official profile on social media revealed a countdown to the release of the song's MV.[33] On March 31, the same day the group's first Japanese studio album was released, the MV was released.[34]
On March 5, the first and only episode of the group's first web drama, It's Okay, That's Friendship, was published on YouTube as part of the variety web series Treasure Map, marking the first acting experience of the group.[35] According to YG Entertainment on March 8, the web drama surpassed 2 million views in less than 3 days since its release.[36]
On October 23, it was reported by YG Entertainment that the group would hold their first face-to-face and online fan meeting titled 'TREASURE 1st PRIVATE STAGE – TEU-DAY' on October 2.[37]
On October 31, a live relay of the b-side "Be With Me" featured on the group's first full-length album was released on the group's official YouTube channel, it had a message saying something would be out soon. On the same day, YG Entertainment stated that "A special project that shows TREASURE's new charms and infinite potential is prepared. We will soon be delivering great news to fans who's been waiting for them".[38]
On December 1, it was revealed that the group would star in their second exclusive web drama 'Tale of a Boy's High School' which would have its first episode released on November 12th. YGE later revealed that there would be a total of 8 episodes with the mystery high-teen thriller genre.[39]
Members
Name
Position(s)
Year(s) active
Choi Hyun Suk (최현석)
Co-Leader, Main Rapper, Lead Dancer
2019–present
Jihoon (지훈)
Co-Leader, Main Dancer, Lead Vocalist
2019–present
Yoshi (요시)
Lead Rapper, Lead Dancer
2019–present
Junkyu (준규)
Lead Vocalist, Visual
2019–present
Mashiho (마시호)
Main Dancer, Lead Vocalist, Visual
2019–present
Yoon Jae Hyuk (윤재혁)
Sub Vocalist, Sub Rapper
2019–present
Asahi (아사히)
Lead Vocalist, Visual
2019–present
Bang Ye Dam (방예담)
Main Vocalist
2019–present
Doyoung (김도영)
Main Dancer, Sub Vocalist
2019–present
Haruto (하루토)
Lead Rapper, Visual
2019–present
Park Jeong Woo (박정우)
Main Vocalist
2019–present
So Jung Hwan (소정환)
Lead Dancer, Sub Vocalist, Maknae
2019–present
Pre-debut
Ha Yoon Bin (하윤빈)
N/A
2019
Discography
Filmography
Reality shows
TREASURE - T.M.I (YouTube, 2020)
TREASURE Map

Season 1 (YouTube, SBS MTV, 2020)
Season 2 (YouTube, 2021)
Web Dramas
It's Okay, That's Friendship (YouTube, 2021)
The Mysterious Class (YouTube, 2021)
Endorsements
Awards and nominations
Main article: Awards and nominations received by TREASURE
Gallery
Main article: TREASURE/Gallery
References
Official links