"

Promise now, cherish it preciously~ We will grow as into your idols. Hello, we are fromis_9!
(이제는 약속해~ 소중히 간직해~ 당신의 아이돌로 성장하겠습니다. 안녕하세요, 프로미스나인입니다!)

"
—fromis_9
fromis_9 (프로미스나인; initialism of from idol school; pronounced as " fromise nine") is a nine-member girl group currently under Pledis Entertainment. Formed through the reality show Idol School, they officially debuted on January 24, 2018 with the mini album To. Heart.
Their group name stands as a promise to their viewers to be the best girl group.
History
Pre-debut: Idol School, "Glass Shoes"
In March 2017, Mnet announced the launch of a new reality show, titled Idol School, to form a new girl group. Different from other survival shows programs, Idol School, as its name suggests, aimed to teach trainees not only singing and dancing, but also the history of K-pop as well as mental training within an 11 week period.[2] Also, only trainees who were not signed under an agency were allowed to join the program. Viewers would vote live every week and each students' grades were determined by it.[3]
Idol School premiered on July 13, 2017 and its live finale was broadcast on September 29, with the top nine contestants becoming a permanent girl group called fromis_: Jang Gyuri, Baek Jiheon, Lee Seoyeon, Park Jiwon, Lee Nagyung, Lee Chaeyoung, Lee Saerom, Song Hayoung, and first place winner Roh Jisun. As Roh Jisun placed first overall, she was named the group's center and given a feature in a special edition of the group's debut album.[4] Pledis Entertainment, led by Han Sung Soo, managed the group's training and debut.[5]
On October 19, fromis_ premiered its own reality program, Fromis_'s Room, which centered around the group's path to debut. Following the program's final episode on November 23, the group's name was changed to fromis_9, with the "9" representing the nine members who "graduated" from Idol School.[6]
At the 2017 Mnet Asian Music Awards, on November 29, fromis_9 performed their pre-debut song "Glass Shoes". The following day, the song was released as a digital single. The group later performed the song on December 15's episode of Music Bank, marking the group's first ever music show appearance.[7]
2018: Debut with To. Heart, first comeback with To.Day, Off The Record Entertainment, "From.9"
On January 8, 2018, it was announced that fromis_9 would make their official debut with the mini album To. Heart.[8] The mini album, along with its title track of the same name, was released on January 24.
On May 4, it was revealed that member Jang Gyuri would be joining Produce 48 as a contestant.[9] Meanwhile, on May 21, the group announced plans for their first comeback with their second mini album To. Day, which they would promote as eight members.[10] The mini album, along with its title track "DKDK", was released on June 5. On August 26, Jang Gyuri was eliminated from Produce 48 in the show's eleventh episode after ranking 25th place.[11]
On September 10, it was reported the group was preparing to make a fall comeback with its full nine-member lineup.[12] On September 21, Off The Record Entertainment announced that fromis_9, along with Produce 48's final group IZ*ONE, would now be managed by the agency after switching from Pledis Entertainment and Stone Music Entertainment respectively.[13]
On September 28, teaser images posted on the group's official Twitter account confirmed fromis_9's plans for a fall comeback.[14] On October 10, the group's first special single album "From.9", along with its title track "Love Bomb", was released. The single album marked the group's return as a nine-member group.
On October 15, fromis_9 collectively made their acting debut in a web series, titled Welcome to Heal Inn, on their official VLive page. However, only eight members appear as the series was filmed during Jang Gyuri's absence.[15]
2019: Fandom name, "Fun Factory"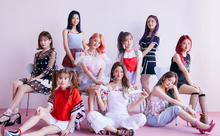 On the group's first debut anniversary, January 24, 2019, their official fandom name was revealed to be Flover. The meaning of the name was described as "A promise between fromis_9 and their fans to spend happy moments together". The name is a combination of "fromis" and "clover".[16]
The group made a comeback on June 4 with their first single album "Fun Factory" and its title track "Fun!".
2020: Japanese debut plans, My Little Society
On January 21, 2020, the group officially opened their Japanese website, inciting a Japanese debut in the near future.[17] On February 21, the pre-release of a Japanese version of "Love Bomb" prior to the group's official debut in Japan was announced.[18] Originally slated for a March 13 release, the single and all of fromis_9's promotions in the country were delayed due to the COVID-19 pandemic.[19]
On August 24, it was confirmed that fromis_9 were preparing to make their first comeback in over a year.[20] The group's third mini album My Little Society, along with its title track "Feel Good (Secret Code)", was released on September 16.
2021: "9 Way Ticket", management changes and "Talk & Talk"
On May 3, 2021, an official photo teaser posted to the group's various social media accounts announced that their second single album "9 Way Ticket" will be released on May 17.[21]
On August 16, 2021, Pledis Entertainment announced that fromis_9 would be leaving Off The Record and would now be managed by Pledis.[22] On August 17, Pledis confirmed the group was preparing for their first comeback under the label, with a target release of September.[23]
It was later announced that they would return with their second special single album "Talk & Talk" on September 1.[24] With "Talk & Talk", the group won their first ever music show win on September 7, 2021 on the music program The Show.[25]
2022: Midnight Guest, Jiheon's hiatus, From Our Memento Box
On December 15, 2021, fromis_9 confirmed that they would return with a mini album in mid-January.[26] On December 30, 2021, the group posted a concept trailer for their fourth mini album Midnight Guest, to be released on January 17, 2022.[27]
On February 24, Pledis Entertainment announced that Baek Jiheon would be going on a hiatus due to health reasons.[28] On April 18, Pledis Entertainment announced that Jiheon will resume her activities, starting with the group's 1st fan meeting, scheduled on April 22.[29]
On May 23, Pledis Entertainment released a statement announcing that fromis_9 would be making a full group comeback with the release of their fifth mini album by the end of June. The agency also confirmed that group member Jiheon would also be returning from her hiatus.[30] On June 6, a teaser photo posted revealed the group's fifth mini album, titled From Our Memento Box, will be released on June 27.[31]
Members
| Rank | Name | Position(s)[32] | Years active |
| --- | --- | --- | --- |
| 3 | Lee Saerom (이새롬) | Team Captain, Lead Dancer, Vocalist, Visual | 2017–present |
| 2 | Song Hayoung (송하영) | Vice-Captain, Main Vocalist, Main Dancer | 2017–present |
| 9 | Jang Gyuri (장규리) | Lead Vocalist, Face of the Group | 2017–present |
| 6 | Park Jiwon (박지원) | Main Vocalist | 2017–present |
| 1 | Roh Jisun (노지선) | Vocalist, Center | 2017–present |
| 7 | Lee Seoyeon (이서연) | Main Rapper, Lead Vocalist, Lead Dancer | 2017–present |
| 4 | Lee Chaeyoung (이채영) | Main Dancer, Lead Rapper, Vocalist | 2017–present |
| 5 | Lee Nagyung (이나경) | Lead Vocalist, Lead Dancer, Visual | 2017–present |
| 8 | Baek Jiheon (백지헌) | Vocalist, Maknae | 2017–present |
Discography
Korean

Mini albums

Single albums

Special single albums

Digital singles

OSTs

Japanese

Digital singles
Filmography
Web dramas
Welcome to Heal Inn (V Live, 2018)
We See Winter (V Live, 2019)
Reality shows
fromis_'s Room (Mnet, 2017)
Channel_9 (YouTube, 2018 - present)
Radio shows
Summer Night's fromis_9 (Naver Now, 2022)
Endorsements
On May 10, 2022, Neogen, a cosmetic brand, revealed that they selected fromis_9 as their new models.[33]
Awards and nominations
Year
Recipient
Award
Won
Brand of the Year Awards
2021
fromis_9
Hot Trend Female Idol
Won[34]
Trivia
Gallery
Main article: fromis_9/Gallery
Notes
References
Official links