"

Crystal clear! Hello, we are CLC!

"
—CLC
CLC (씨엘씨; short for CrystaL Clear) is a six-member girl group under Cube Entertainment. Originally as five, they debuted on March 19, 2015 with their first mini album First Love.
History
Pre-debut
Prior to CLC's debut, Seunghee, Yujin, Seungyeon, Sorn, and Yeeun made their first public appearances working as backup dancers for G.NA during her promotions of "G.NA's Secret".[1] Additionally, the group began to gain publicity through street performances that helped raise money for children with disabilities.[2]
In December 2014, Cube Entertainment confirmed their plans to debut a new, multinational girl group in the first half of 2015. Additionally, the company revealed Sorn as the group's first confirmed member.[2]
2015: Debut with First Love, "Eighteen", Question
On March 8, 2015, an image posted on CLC's official Facebook page revealed their debut date to be March 19.[3] On this day, the group officially debuted with their first mini album First Love and its title track "Pepe".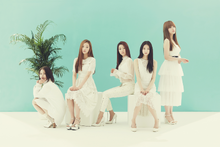 On April 16, the group released their first digital single, titled "Eighteen". Promotions for the single began the following day on KBS' Music Bank.[4]
The group made their second comeback on May 28 with their second mini album Question and its title track "Like".
2016: Addition of Elkie and Eunbin, Refresh, Japanese debut, Nu.Clear, fandom name
On February 23, 2016, Cube Entertainment announced the addition of two new members to the group: Elkie and Eunbin. Additionally, it was revealed the group would be making a comeback on February 29.[5] On this day, the group's third mini album, Refresh, was released along with its title track "High Heels". As Eunbin was competing as a contestant on the survival show Produce 101 at the time, she was not present for the album's promotions and does not appear in the original music video for the title track.[6] A version of the music video including Eunbin was released on March 21.[7]
On March 7, it was revealed through the group's appearance on Kiss The Radio that the leadership position, originally held by Seunghee, was passed onto Seungyeon.[8]
The group made their Japanese debut on April 13 with the mini album High Heels.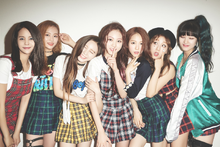 On May 18, Cube Entertainment announced CLC would be making a comeback later in the month.[9] The group's fourth Korean mini album, Nu.Clear, was released on May 30. Eunbin was temporarily taken out of the album's promotions due to health issues, but resumed activities on June 22.[10][11]
On June 21, the group's official fandom name was revealed to be Cheshire. The name was inspired by the group's original logo which featured a cat's face.[12]
On July 27, CLC released their second Japanese mini album Chamisma.
On December 27, it was announced the group would making their comeback in January with a brand new concept.[13]
2017: Crystyle, Free'sm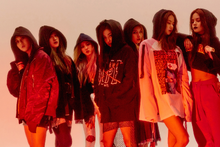 CLC released their fifth Korean mini album, Crystyle, on January 17, 2017. The mini album marked a revamped image for the group, featuring a more charismatic, hip-hop concept.
On May 27, the group held their first ever fan-meeting, "2017 Cheshire Entrance Ceremony", at Olympic Hall Muse Live in Seoul.
On July 10, CLC announced their plans for a "suprise" comeback sometime later that month.[14] On August 1, the group's sixth Korean mini album Free'sm, along with its title track "Where Are You?" was released.
2018: Black Dress
On January 28, 2018, CLC revealed their plans to release a new digital single ahead of an official comeback.[15] The group's second digital single, "To the Sky", was released on February 1.
CLC's seventh Korean mini album Black Dress, along with its title track of the same name, was released on February 22.
The group held a special third-anniversary concert, titled "Black Dress" on April 1. The concert was donation-based; tickets were free of charge and attendees had the option of making donations to the Korea Insulin Diabetes Association, which CLC was an honorary ambassador for.[16]
2019: No.1, "Me", "Devil"
On January 8, 2019, Cube Entertainment confirmed CLC would be making a comeback later that month.[17] On January 30, the group released their eighth Korean mini album, No.1, along with its title track "No."
On May 14, the group was confirmed to be in the final stages of preparing for a spring comeback later in the month.[18] On May 29, CLC released their third digital single "Me".
The group's fourth digital single, "Devil", was released on September 6.
2020: "Helicopter", Elkie's contract termination
On August 13, 2020, it was announced that CLC would be making their first comeback in nearly a year.[19] The group's first single album, "Helicopter", was released on September 2.
On December 25, it was reported that member Elkie had submitted a request to terminate her contract with Cube Entertainment, citing lack of payment and support for the group's development, implying the company has no plans for Elkie's future. Her legal team has mentioned that after Cube Entertainment receives the request, they will have 15 days to respond with her income statement before taking further action.[20]
2021: Elkie's departure, Alleged disbandment
On February 3, 2021, it was announced that Elkie has officially left CLC and Cube Entertainment as her contract with the agency was terminated in a mutual agreement between both parties.[21]
In June 2021, SpoTV News confirmed that member Yujin will be an upcoming contestant in the competitive reality show, Girls Planet 999. During Episode 2, Yujin revealed that Cube Entertainment had dismissed CLC and its members, leading viewers into speculating that the group had disbanded, with no official confirmation yet from Cube.[22][23] Additionally, on August 18, member Sorn returned to being an active YouTuber, albeit all her previous videos were deleted (which belonged to Cube) which Sorn ambiguously referred to as "letting go" but assures fans that she will create more new and fun memories from now on on her new journey.[24]
Members
Name
Position(s)
Fruit[25]
Years active
Seunghee (승희)
Main Vocalist
Green Apple
2015–present
Seungyeon (승연)
Leader, Main Dancer, Lead Vocalist, Rapper
Orange
2015–present
Sorn (손)
Lead Vocalist
Watermelon
2015–present
Yeeun (예은)
Main Rapper, Vocalist
Tomato
2015–present
Eunbin (은빈)
Rapper, Vocalist, Face of the Group, Maknae
Lemon
2016–present
Inactive
Yujin (유진)
Lead Dancer, Vocalist, Rapper, Visual, Center
Strawberry
2015–present[26]
Former
Elkie (엘키)
Lead Vocalist, Lead Dancer, Visual
Cherry
2016–2021
Discography
Korean
Mini albums
Single albums
Digital singles
Collaborations
OSTs
"Choco Bank OST Part.1"

("Pounding Love")

(2016)
"Be My BoyFriend OST"

("Another Level")

(2021)
Japanese
Mini albums
Gallery
Main article: CLC/Gallery
References
Official links