"

Be MY æ! Hello, we are aespa!

"
—aespa
aespa (에스파; also stylized as æspa) is a four-member girl group under SM Entertainment. They debuted on November 17, 2020 with the digital single "Black Mamba".
Their name is a combination of "æ", which means 'Avatar X Experience', and "aspect", which means double-sided. Together it means that you would being able to experience a new world through another avatar of yourself.[1]
History
Pre-debut activities
On September 19, 2016, Ningning was revealed as a new member of the trainee team SMROOKIES. She appeared on the "Rookies Princess: Who's the Best?" segment of the program "My SMT" in 2016 and was also part of the soundtrack for the Korean animated TV program "Shining Star" in 2017.[2]
In 2019, Karina appeared in Taemin's "Want" music video. She also performed with him on music shows in the following weeks.
2020: Debut with "Black Mamba", fandom name
On October 26, 2020, an intro video was released on aespa's social media announcing their name and logo.[3] Later that day, it was announced that SM would be debuting a new girl group in November.[1][4] The next day, the group's first member, Winter, was officially revealed.[5][6] On October 28, the second member, Karina, was revealed.[7][8] The same day, a video shown during a press conference featuring Lee Soo-Man revealed the group will have four members, including Giselle and Ningning.[9] On October 29, Ningning was officially revealed as the group's third member.[10][11] On October 30, Giselle was revealed as the group's fourth and final member.[12][13]
On November 2, it was announced the group would debut on November 17 with the digital single "Black Mamba",[4][14][15] The music video for the song counted 21,4225,062 views in its first day, breaking the record for most viewed music videos in the first 24 hours by a K-pop group in its debut, which was previously held by ITZY with the song "Dalla Dalla".[16]
On November 17, on their debut day, the group's fanclub name was announced to be "MY (마이)" which is the word used to mean "the most precious friend" in KWANGYA where aespa's avatar æ lives.[17]
2021: First music show win, second digital single "Forever"
On January 8, 2021, the music video for "Black Mamba" hit 100 million views, which took only 51 days and 12 hours to achieve, setting the new record in K-pop history as the debut MV to garner 100 million views in the shortest time period.[18][19]
On January 14, a Forbes article mentioned that the group is expected to put out new music early into 2021 with all signs pointing to additional international activities.[20]
On January 17, the group won their first music show win with "Black Mamba" on SBS's Inkigayo.[21][22]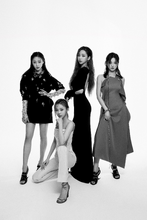 On January 29, the hashtag #늘_네_옆에_난_서있을게 (#I_will_always_stand_by_your_side) was promoted by the group's official Twitter account, and it was later revealed that the group would release a surprise single "Forever" on February 5. The single is a remake of the song of the same name by Yoo Young Jin from the SMTOWN album Winter Vacation In SMTOWN.Com.[23][24] On February 4, SM Entertainment announced that the group would release a series of performances for the single in the following days with various concepts.[25][26]
On February 10, it was announced that the group became an ambassador of the French luxury house Givenchy, presenting the collections and major lines of Givenchy creative director Matthew M. Williams.[27]
On March 15, an economic analysis by SM Entertainment revealed that a virtual show in conjunction with the group's "æ-avatars" is expected for the year. Lee Kihoon, a researcher at the Hana Financial Group, also adds that the debut process of the group was largely responsible for making SM the most innovative company in the current era of the "metauniverses".[28]
On March 19, aespa was one of the two k-pop groups chosen by People magazine in the list "Emerging Artists Making Their Mark on the Musical Landscape in 2021". According to the article, the group was currently preparing to be able to release their first mini album during the South Korean summer.[29] On April 6, it was reaffirmed again in an article from "Just Jared" that the group are set to release new music in the summer.[30]
Members
| Name | Avatar | Symbol[31] | Animal[31] | Position(s)[32] | Year(s) active |
| --- | --- | --- | --- | --- | --- |
| Karina (카리나) | æ-Karina | ❤️ | Whale | Leader, Main Dancer, Lead Rapper, Vocalist, Center, Face of the Group | 2020–present |
| Giselle (지젤) | æ-Giselle | 🌙 | Unicorn | Main Rapper, Vocalist | 2020–present |
| Winter (윈터) | æ-Winter | ⭐ | Siberian Husky | Lead Vocalist, Lead Dancer, Visual | 2020–present |
| Ningning (닝닝) | æ-Ningning | 🦋 | Tiger | Main Vocalist, Maknae | 2020–present |
Discography
Digital singles
Endorsements
Awards and nominations
Main article: Awards and nominations received by aespa
Trivia
Each member has a digital version of themselves, referred to as avatars.[33]
Gallery
Main article: aespa/Gallery
References
Official links
Community content is available under
CC-BY-SA
unless otherwise noted.